Counselling research and reports
Core-PC system
CORE is a way of evaluating counselling and psychological therapy services currently used by many organisations across the UK. Clients are asked to complete a brief questionnaire before and after their counselling so we can see any changes that have taken place. In addition, counsellors complete basic anonymous information about the counselling that takes place. The system is completely anonymous and confidential, and it is also entirely voluntary : you don't have to take part if you don't want to, and it doesn't affect your counselling in any way if you decide not to take part. For more information on the CORE system, check their website (www.coreims.co.uk).
> see gmh research pages
MRC research
> see gmh research pages
Suicide and self-harm research
> see gmh research pages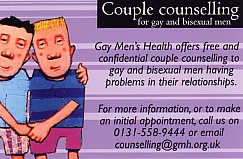 Last updated 3rd April 2004
© Copyright 2001-2004 Gay Men's Health - all rights reserved.
Unless otherwise stated, the images and text on these pages are copyright Gay Men's Health and may not be reproduced without prior permission.