What the counselling services provide
Counselling / Psychotherapy
Individual, Couple/Relationship, Group and Family
Our counselling services are free and confidential and are provided by trained counsellors.
> more information about the counselling we offer
> more information about our counsellors, including their training, qualifications and experience
---
Training / Consultancy
Gay Men's Health offers training and consultancy to counsellors and other helping professionals throughout Britain. You will find details on some of the training we offer below:
Counselling Lesbian, Gay, Bisexual and Transgendered Clients workshop

Counselling couples in same-sex relationships workshop

Counselling men who have been raped, sexually assaulted or abused workshop

Person-centred approaches to counselling LGBT people workshop

Supervision and Sexuality workshop

Making services more accessible to minority communities consultation services
Training is offered to organisations at £350 per day and to individuals at £70 per person. Rates are negotiable for charitable organisations, student counsellors and volunteer counsellors working for agencies. We can develop training specifically for you or your organisation. We are also happy to offer consultancy to individuals and organisations on any of the issues mentioned above.
We are currently taking the lead in working with Saheliya, Men in Mind, Lothian Centre for Integrated Living and Connect Ed (the Lesbian & Bisexual Women's Counselling Service) to develop a more comprehensive approach to working with difference in Counselling Diploma training. We are also represented on a working group at BACP looking at diversity in counselling, and finding a way forward for the RACE division.
---
Research and Reports
The counselling and support services at Gay Men's Health conduct research and ongoing evaluation. CLICK HERE to see some of our previous research.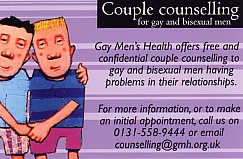 Last updated 3rd April 2004
© Copyright 2001-2004 Gay Men's Health - all rights reserved.
Unless otherwise stated, the images and text on these pages are copyright Gay Men's Health and may not be reproduced without prior permission.