Information about counselling with GMH
Contents
> introduction
> what is counselling?
> what counselling is available?
> who is counselling with GMH for?
> what training do the counsellors have?
> how confidential is it?
> what support do the counsellors have?
> how can you use us?
> when can I start?
> what about ending?
> what if I'm not happy with the counselling?
> evaluation procedure
> make an appointment (e-mail form)
Introduction
Gay Men's Health offers free, confidential and professional counselling to gay and bisexual men living in the Lothians.
This information is for anyone using or thinking about using our counselling services. It will tell you a bit about what we offer and what to expect as well as answering some of the most common questions people ask.
What is counselling?
Counselling is a professional helping relationship which gives you a chance to openly and honestly look at what is happening in your life so you can find ways of living more effectively and enjoyably. It gives you the opportunity to talk confidentially about your experiences and feelings with someone who will really listen and won't judge you.
The counsellor's role is to provide a safe and confidential relationship in which you can look at your life and your feelings and seek possible changes. A counsellor will not give you opinions or advice, will not simply tell you what they think you want to hear and will not come up with solutions for you. They will give you space to consider all the things that are having an effect on you and will support you to work out your own solutions. However, counselling is not a magical cure for everything and sometimes you may have to work with your counsellor to accept things that cannot be changed or to make sense of difficult things that have happened to you.
Counselling requires a commitment from you, a willingness to look at yourself and the guts to take some risks in being open with another person. You will need to take responsibility for finding your own answers but you will be given the support of a trained professional who will listen without judgement.
If you feel that you need to get things off your chest but don't want any change or don't want to look at your life in any depth, then counselling may not be for you just now. You might instead want to get support through organisations such as the Samaritans, Switchboard or others listed in the links section of this site.
What counselling is available?
Our counsellors come from a variety of backgrounds and approaches. Your counsellor will be happy to explain their counselling approach if you have any questions.
There are a number of different counselling services available through Gay Men's Health, listed below:
1. Individual counselling
This is where you meet regularly with a counsellor for private one-to-one sessions to work on your problems.
2. Couple counselling
This is where partners in a relationship are coming for counselling together. The counsellor is trained in understanding relationships and helping people to work through their problems together. Couple counselling is not always about finding ways to stay together – it can be about ending a relationship so both people can move on. Couple counsellors are not there to take sides but will try to help you express yourselves and communicate more effectively. Our couple counsellors have completed a standard counselling qualification as well as an additional three or four days training on working with couples and relationship problems (including sexual problems). You may alternatively want to contact Couple Counselling Lothian, who specialise in working with couples.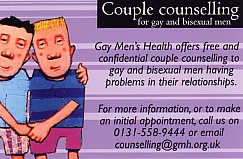 3. Group counselling
This is where a group of people regularly meet together facilitated by a counsellor trained in understanding the way groups work. The exciting thing about group counselling is that members are able to listen to, support and challenge one another.
Coming soon: information on group counselling taking place at the moment.
4. Family therapy
This is where a family meets with a counsellor trained in understanding family patterns and relationships to work through any difficulties in their relationships with one another. Unfortunately we are not currently funded to provide this service and therefore need to make a charge for sessions, which will normally be £25 per session, although this rate is negotiable for people on low incomes. Family can mean your parents, children, partner or other family members.
Who is counselling with Gay Men's Health for?
We provide free and confidential counselling to gay and bisexual men living in the Lothian regions on absolutely any issue, so you can use our counselling services to talk about anything that is important to you.
Deciding to have counselling does not mean that you are unable to cope and is not a sign that you are "cracking up" – it is about making a positive choice to help yourself. Counselling is for anyone who wants some kind of change.
So, if you –
Are going through a difficult change

Are considering making an important decision

Are questioning the direction and purpose of your life

Want to change something about yourself or your relationship

Feel that your life is stagnating and needs change

Or want to make some changes in your life
… then counselling could be for you.
What training do the counsellors have?
Our counsellors have successfully completed a professional counselling training lasting a minimum of one or two years and have a recognised qualification in counselling. We also offer a limited number of places to students completing the final stages of their counselling qualification. Detailed information on our counsellors, their qualifications and experience, is available from the office and can also be found by clicking here.
How confidential is it?
Any counselling provided by Gay Men's Health is completely and permanently confidential. This means that we won't record or pass on any personal information which would lead to other people knowing –
1) that you have used our services
2) what you have talked about with your counsellor
However, in exceptional circumstances, if your counsellor believes that you may be a danger to yourself or another person then they may be legally and / or ethically required to take action. In these situations we will pass on the minimum amount of information to the most appropriate professionals in order to protect the safety and confidentiality of everyone involved. Wherever possible and appropriate we will discuss our concerns with you in advance of taking any action.
What support do the counsellors have?
Counsellors working with Gay Men's Health are required to attend regular professional supervision to make sure they are working with you in an ethical, appropriate and helpful way and to check they are not becoming stressed by their work. The supervisor is an independent professional who offers your counsellor a confidential relationship to help them explore and improve their work. We ask our counsellors not to pass on any information to their supervisor which could identify you, such as full name, appearance, job etc. The counsellors also sometimes meet as a group to discuss their work and support one another. Again, counsellors in this situation are asked not to pass on any information which would identify you.
How can you use us?
Our counselling services can be flexible to suit your needs. Appointments are available for day or evening on weekdays and during the day at weekends. Normally you would arrange to meet with your counsellor for one hour each week in a private and safe room.
If you cannot make an arranged appointment then your counsellor will expect adequate notice of cancellation. Useful counselling requires a commitment from both the counsellor and yourself, and Gay Men's Health may be unable to continue supporting your counselling if you fail to show up for appointments without warning.
When can I start?
Like the majority of counselling agencies we have to operate a waiting list for counselling, which means that you may not be seen immediately.
However, you will be offered an initial appointment with the Counselling and Support Manager within two weeks. This initial meeting serves a number of different functions:
it will give you a chance to ask any questions you have about counselling or about Gay Men's Health

it will give you a chance to talk confidentially with someone in advance of your counselling

it will give both people the chance to discuss whether counselling is likely to be helpful for you just now

it will look at how appropriate it is for you to be waiting for counselling at the moment

it will look at whether there may be other helpful sources of support

it will ask for some basic information for the purposes of our evaluation system
You are not being assessed at this meeting but a decision will be made about the most appropriate course of action for you at this point in time: whether to place you on the waiting list, refer you to a more appropriate organisation, offer another type of help etc. If you think you know the Counselling and Support Manager and would feel uncomfortable talking to him then we can arrange for this initial meeting to be held with someone else.
In order to be placed on the waiting list we need to take some contact details so we can get in touch when a space becomes available. This information is confidential and is kept secure within the organisation. The Administrator and the Counselling and Support Manager are the only people who will have access to your contact details and this information is shredded once you leave counselling.
What about ending the counselling?
You are always in charge of the counselling process and you can stop at any stage. However, it is worth considering that things may feel worse before they feel better, particularly if you are exploring difficult feelings or experiences. It can be very helpful to discuss this with your counsellor rather than simply deciding not to turn up for your next session. They won't expect you to stay in counselling if it feels too difficult just now or if it doesn't seem to be helping, but at least you will have a chance to explore this and discuss it openly, perhaps even finding some solutions in the process. If you do decide to end your counselling we ask you to give your counsellor a week's notice. This gives you both the chance to tie things up and end properly. Hopefully you will come to the end of your counselling feeling that things have improved for you and that you are ready to move on.
What if I'm not happy with the counselling?
If you are unhappy with your counsellor or your counselling for any reason, then you may wish to pursue one of the following options:
Speak to your counsellor about the problem

Contact the office and ask to see another counsellor at Gay Men's Health

Contact the office and ask for information on counselling available elsewhere

Make a complaint about the service you received
You can make a complaint to any member of staff. Your complaint will be fully investigated and you will receive a written response within 28 days. If this response is unsatisfactory, then you can appeal to the Chair of the Board of Directors, who will investigate and reply within 14 days.
If you feel your counselling has been unprofessional, then you can also make a complaint to the British Association for Counselling and Psychotherapy (BACP), of which Gay Men's Health is an Organisational Member and therefore accountable to their published "Ethical Framework for Good Practice". They will investigate your complaint and inform you of any action taken. A copy of the ethical framework is available from the Gay Men's Health office, from BACP and from the BACP website.
Evaluation procedure
We evaluate our counselling services so that we can develop and improve them. In order to do this we give you a simple questionnaire before and after your counselling and ask you for some basic, anonymous information. There is nothing on the evaluation forms which could identify you. Providing information for our evaluation system is completely voluntary and it does not affect your counselling in any way if you choose not to take part.
To make an appointment
If you have any questions about our counselling services, or would like to make an appointment, contact us by calling 0131 558 9444 or by clicking here.
> what we provide
> information about counselling
> our counsellors
> research and reports
> recommended reading (see gmh recommended reading page)
> links (see gmh links page)
> make an appointment (e-mail form)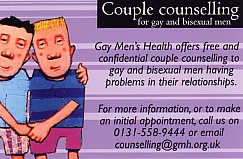 Last updated 3rd April 2004
© Copyright 2001-2004 Gay Men's Health - all rights reserved.
Unless otherwise stated, the images and text on these pages are copyright Gay Men's Health and may not be reproduced without prior permission.